Skip to Content
Premier Portable Restroom Rental Company
For over 30 years, construction companies and event managers throughout North Carolina have trusted the experienced team at Piedmont Portables for all their portable restroom rental needs. Whether you're on a long-term job site with multiple contractors or hosting a wedding with over 100 guests in attendance, you can always count on us for on-time delivery and affordable rates. We offer a wide selection of portable restrooms and additional products to ensure your project or event is successful. We can work with you to determine how many units you need so your guests have appropriate accommodations. Contact our team today to learn more about our units and to schedule your delivery.
What Makes Our Portable Restrooms Better?
At Piedmont Portables, we carry various portable restroom units to ensure you have suitable accommodations for your job site or event. We combine excellent sourcing of products and well-maintained units to ensure you're entirely satisfied with our service and product. Our units include:
Construction Sites
Our construction site units are made of durable plastic, so they can withstand anything the job throws at them. Angled vents allow for proper airflow through the unit. We also offer special hoist units to reach multi-story construction projects.
Optional Units
You value cleanliness, and Piedmont Portables is here to assist you with a selection of portable sanitation units. We offer sinks, sanitizer stations, and tanks to fit your need and budget. Get started today.
Special Event Units
If you're hosting an outdoor event, we have the right selection of either standard, premium, or flushable units. We also provide handicapped units that are wheelchair accessible for the convenience of all your guests.
Comfort Stations
Comfort stations are our top of the line, luxury rental units. Features include fully enclosed stalls with wood doors and trim, flushable porcelain toilets and wall-hung porcelain urinals, custom wall treatments, wooden-based cabinets, laminated or granite countertops, and indirect interior lighting.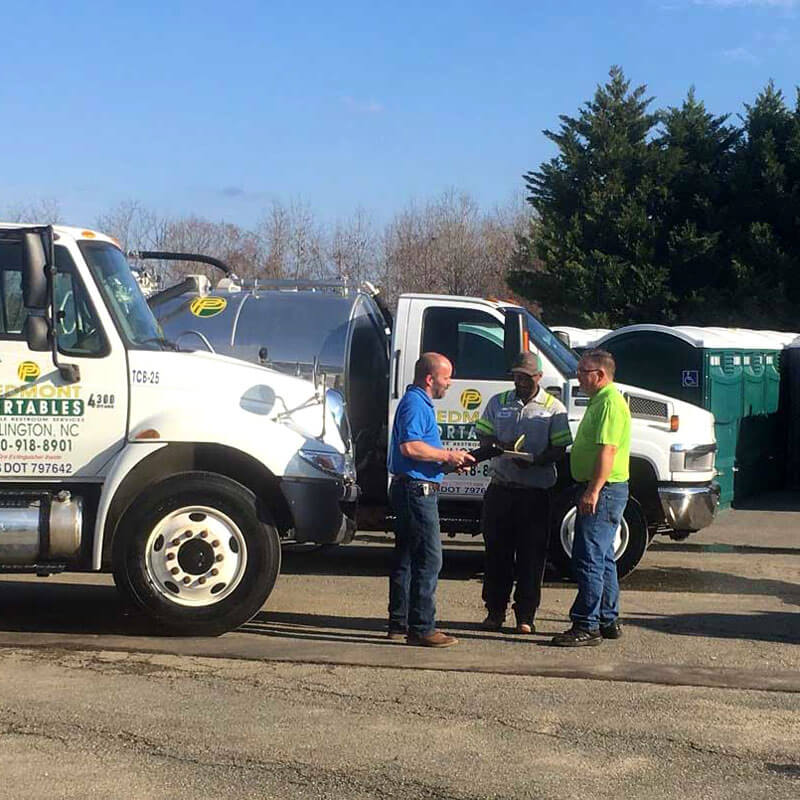 Additional Services
We use a highly trained team of service associates equipped with a well-maintained fleet of service vehicles to deliver you and your company a 100% satisfaction guarantee. With over 30 years of experience, we have made the process of scheduling, delivery, pick-up, and servicing easy and efficient. Learn more about the additional services we provide:
Delivery – On-Demand delivery and service mean we will make every effort to accommodate your schedule – and will have units on your site and ready to use when you need them. Not only can we handle any size order you have, but we can also even lift our product to you.
24/7 Emergency Services – If you have a construction project or multi-day event, our team is available 24/7 to handle all of your maintenance, pick-up, and delivery needs. We are your ideal partner for portable toilet or comfort station rental needs.
Schedule Your Portable Restroom Delivery
At Piedmont Portables, we combine our relentless dedication to customer satisfaction and high-quality products to provide you with the most reliable portable restroom delivery and services available in North Carolina. Construction companies, event managers, and wedding coordinators have trusted us for over 30 years. Contact us today, and let our team ensure your next event is a successful one.
Make Your Next Project a Successful One With Piedmont Portables!