Skip to Content
High-Quality Comfort Stations Bathroom Rental
Our mobile multi-stall facilities provide your next outdoor event with premium accommodations for your guests. At Piedmont Portables, we have a large selection of premium portable restroom rentals. Ensuring your guests have accommodations during your event is one of the foundations to ensuring its success. We've provided comfort stations for a wide variety of event types, including weddings, company outings, outdoor festivals, and much more. You can always count on our team for reliable delivery throughout North Carolina. We offer 24/7 emergency services and pumping for multi-day events. You won't have to worry about using a third-party waste management company because we have our own fleet of pump trucks. Contact us today to get started.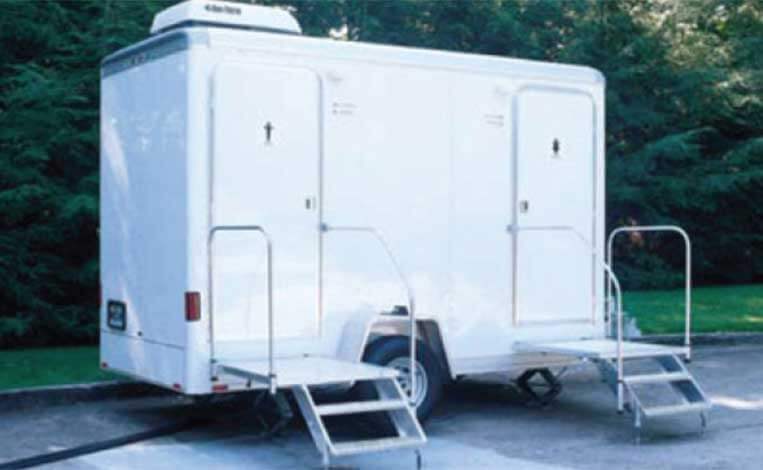 Comfort Station Features
Comfort stations are our premium portable restroom rental units and boast impressive standard features. Event managers and wedding planners choose our comfort stations for their high-quality, durable construction, aesthetic design, and privacy. Other features of our comfort stations include:
Fully enclosed stalls with wood doors and trim
Flushable porcelain toilets and wall-hung porcelain urinals (with privacy screens)
Heavy-duty vinyl or simulated hardwood flooring
Custom wall treatments in a variety of styles and finishes
Wooden base cabinets, laminated or granite countertops, porcelain covered steel lavatories
Indirect interior lighting and double-panel skylights
Wide steps and deep landings with handrails
Our Comfort Station Models
We have a wide selection of comfort stations to meet the needs of your event and guests. Each multi-stall comfort station is built using high-quality materials and finishes for an aesthetically pleasing design. Learn more about each of the types of comfort stations that we carry:
High-Quality Models for Your Event
Our premium portable restroom rental units are great for weddings, corporate events, and outdoor events. We offer on-time delivery of your unit and can place it almost anywhere on the property to provide your guests with convenient access. Our comfort stations have a wide variety of premium features to ensure privacy and comfort for your guests. Learn more about our comfort stations, and then contact us to schedule your delivery.
Make Your Next Project a Successful One With Piedmont Portables!