Skip to Content
The Executive
A Beautiful Restroom Trailer Combining High-End Luxury With Low-End Maintenance
The array of warm, rich colors and beautiful styling used in The Executive will at once elevate the mood of any special occasion.
This eye-popping and stunning restroom features quartz counters, louvered doors, custom wall treatments, and stainless steel sinks – a truly luxurious comfort station that creates a rich, inviting environment crafted to make your guests feel relaxed and right at home.
While lightweight, spacious and beautiful describe this 10-station portable restroom unit, it boasts a wide array of common-sense features that are found in most of our luxury comfort stations.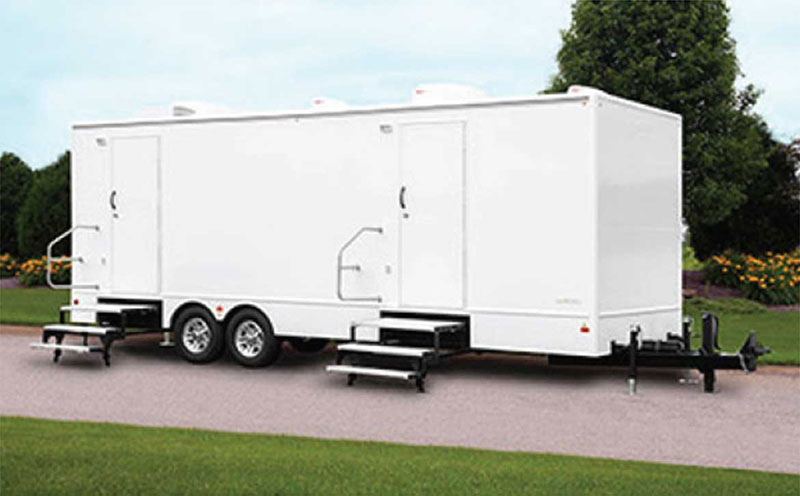 Standard Features of the Executive Series Restrooms
Weather-rated for use in colder climate extremes down to 0°F
Extremely durable, water-resistant, and odor-free
Environmentally friendly
Ladies' area has five spacious stalls and a twin-basin vanity
Men's space has two private stalls, three urinals, and a twin-basin vanity
Each area is individually climate-controlled to ensure complete comfort
Intuitive push-pedal flushable toilets
Innovative flush system efficiently cleans bowl while using a water-saving pint per flush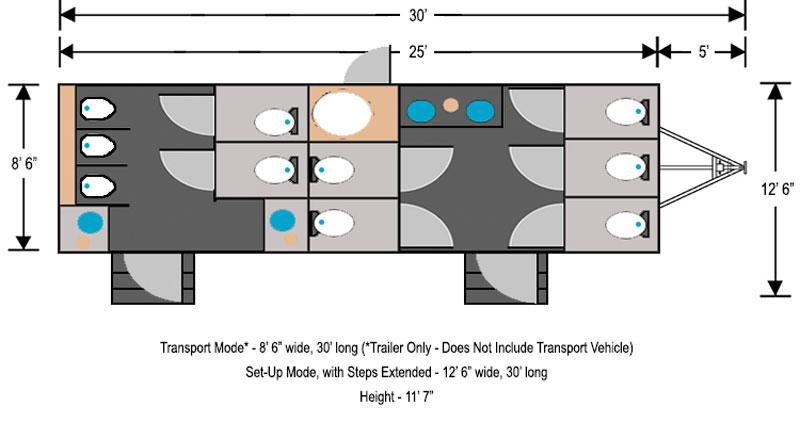 Floor Plan for the Executive Model
Electrical and Water Requirements
Power Requirement: 3 dedicated 30 amp breakers.
Water Requirement: Standard 3/4″ FNPT fitting with minimum of 60 PSI at source, located within 50′ of unit placement.
Features onboard fresh water tank (requires water delivery).
Before You Rent…
For an overview of site requirements and responsibilities of the rental customer and our company in regards to renting a mobile comfort station…
Combined Unit & Truck Lengths
There must be sufficient area to maneuver units into place.
Smallest Combined Truck and Unit Length: 40′
Largest Combined Truck and Unit Length: 56′
Make Your Next Project a Successful One With Piedmont Portables!