Skip to Content
The Liberty
The Liberty Series Units are Waterproof, Durable and Easy to Maintain
Lightweight, spacious and beautiful describes The Liberty – a 25', 10-Station portable restroom trailer designed to meet the needs of end-users demanding a high-end look and appeal, packaged in a basic design.
Inside, the lady's area has five spacious stalls and a twin-basin stainless steel vanity, and the men's area has two private stalls, three wall-hung urinals, and a twin-basin stainless steel vanity. Each area boasts large and spacious common spaces, vanity mirrors with directional lighting, recessed overhead lights, and each is climate controlled by separate air conditioning units to ensure total comfort. Units are also equipped with an onboard water heater.
The Liberty features seamless, composite, lightweight transit-grade commercial flooring that provides for an extremely durable watertight surface. Ideal for high-traffic areas, it is the same type of flooring used in buses and trains.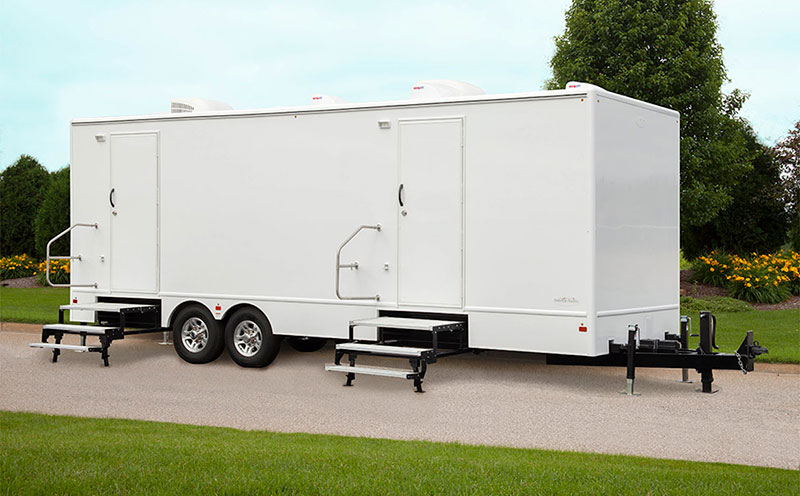 Standard Features of the Liberty Series Restrooms
Extremely durable, water-resistant, and odor-free
Environmentally friendly use of non-wood products to eliminate moisture build-up
Large and spacious common areas with bright and pleasing decor
Ladies' area has five private stalls and two sinks
Mens' area has two private stalls, four urinals, and two sinks
Each area is individually climate-controlled to ensure complete comfort
Water-saving efficient flush system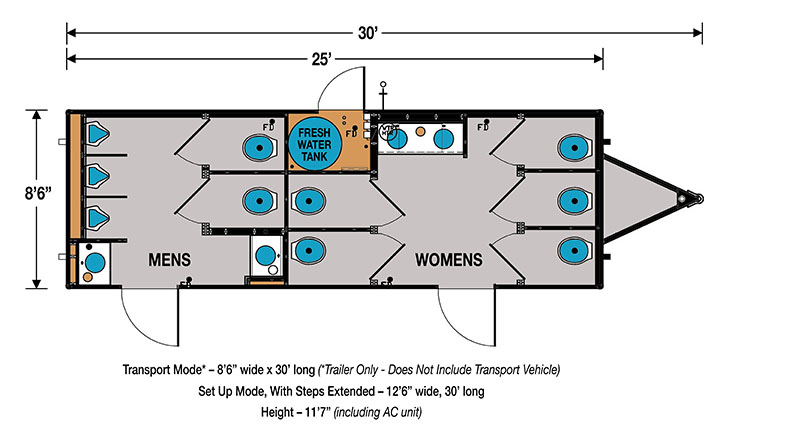 Floor Plan for the Liberty Model
Electrical and Water Requirements
Power Requirement: 3 dedicated 30 amp breakers
Water Requirement: Standard 3/4″ FNPT fitting with minimum of 60 PSI at source, located within 50′ of unit placement
Before You Rent…
For an overview of site requirements and responsibilities of the rental customer and our company in regards to renting a mobile comfort station…
Combined Unit & Truck Lengths
There must be sufficient area to maneuver units into place.
Smallest Combined Truck and Unit Length: 40′
Largest Combined Truck and Unit Length: 56′
Make Your Next Project a Successful One With Piedmont Portables!